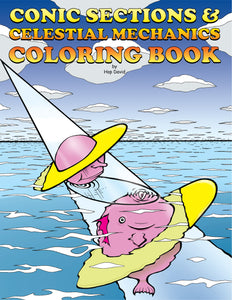 Conic Sections and Celestial Mechanics Coloring Book
This book looks at the conic sections: circle, ellipses, parabolas and hyperbolas. It also looks at Kepler's laws, Oberth effect, Tsiolkovsky's rocket equation, Hohmann transfer orbit, thrust to mass ratio and other concepts associated with spaceflight.
A coloring book needs a heavier, opaque paper. I had failed to specify heavier stock and images show through from the other side of the page. I was going to offer this book for $5.00. But am offering it for $2.00 since I am unhappy with the quality of the paper.
I believe some of the illustrations can still be helpful for understanding some math and physics concepts, though.
I hope to print a version with heavier paper when I can afford it.